By Meg Trimble | May 08, 2017
We flew into Brussels from Singapore via Dubai.  We were late into Dubai due to bad weather. It got worse and we ended up being there about an extra 4 hours. It does not often rain in or around Dubai, but when it does, let me assure you, the entire worlds airlines are inconvenienced. It was utter chaos with flights being diverted left, right and centre and then, when the weather cleared they all had to come on to Dubai.  Then when we did board, we sat on the ground, at the docking bay, nearly another hour before we were pushed back and could commence the flight. We took off and it was longer than usual before the crew were given the okay to commence cabin service. However they had barely got up when they were told to sit down again. This happened a few times, so in the end we were in the air about 90 minutes before we got anything to eat drink or could use the 'loo's"! You should have seen the line -up for them by then!  At least 3 more times during the 7 hour flight, service was suspended and the crew had to take to their seats.  It meant we never did get the "snacks" we were due to have when we first took off and we counted ourselves lucky to get the meal they served later.  They also came around regularly and handed out water to anyone who wanted any. By the time we arrived in Brussels it was 24.5 hours since we had left our Singapore Hotel.
Our Hotel was the Novotel Hotel Midi, which was right across the road from the main Brussels railway Station.  We decided we needed to walk after all day sitting around. As I had had the fall the morning before, I think you can probably guess how stiff and sore I was, but thought the best thing was to try to walk some of the stiffness off.  I was not up to striding it out I must point out, and I often had to stop and rest, but I still think it was the best thing to do.  As we wanted to go to Brugge the following day we went first to the station to check out the best way to get there and where the ticket office was etc. As it turned out we went the long way around to start with, so I was relieved when we found a shorter route to our hotel, because as I said my walking was slow and painful.
On the way back to our Hotel we came across this eatery and as we were not looking for a big meal, stopped to check the menu at the front door. Well, out comes this tall gregarious guy who could charm the pants of anyone, and before we could blink we were inside and ordering. They have this amazing array of small serves of all sorts of things, and you ordered one, 2 or 3 of them to make up your meal. I explained about my allergies – no problem to them it is all cooked separately. In the end I got a plate of grilled capsicum, fried eggplant and boiled rice. It sounds ordinary but tasted simply delicious. I forget what Judy had but she also said hers was delicious. Also, it was cheap – about 7 Euro's from memory.  We went to the bar as we went in to our Hotel, and there was a football match on -  the Qualifiers for the  World Series are currently being held. Judy was in seventh heaven as she is a keen "roundball football" fan.  I left her there talking footy with the barman - and enjoying the game.
The next day we went to Ghent and Brugge. I have covered that in a blog of its own, so will not add anything more here except to say we thought it was a perfect start to our Europe visit.  The following morning we had a delightful breakfast in the Hotel. They offered a buffet with a selection of hot and cold food, fruit, juice – much as we would find in many places, except they had a good selection of both cheese and croissants/pastries. We vacated the room, left the luggage at the Hotel, waked to the station and caught the Metro up town. (I don't know that I would have had the courage to do this, I might add, if I had not had Judy with me to read the signs and understand the language.) We wandered around and went into their large town square.  I was amazed at how much gold is on the building adornments.
Gold decorated building in Brussels Square. We ate where the maroon canopy is.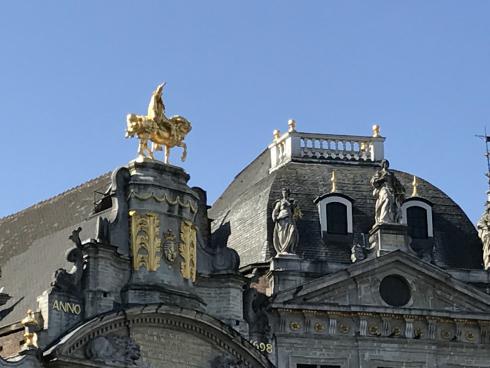 Gold building adornments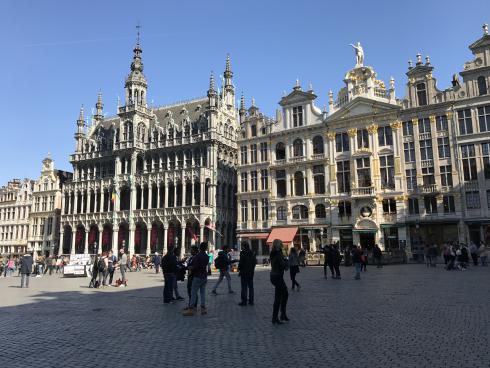 More Brussels Square buildings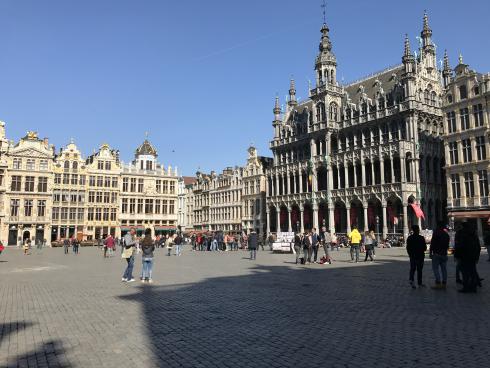 Note some of the traders setting up in the Square
We felt that in comparison with both Ghent and Brugge the square was a little tardy and the area seemed quite dirty. (Distinct small of urine in a couple of spots.) Still it was lovely to see it, and watch the way people interacted in the space.  Even as we sat there, some more people arrived and set up stalls to seel "original art" and souvenirs to the tourists. Later a brass band paraded in on the other side and then went in to one of the buildings. Judy had a coffee, I had a Belguim hot chocolate, and I was amazed to be given a bowl of chocolate pieces to add to make it stronger. We both had a Belgian Waffle which came with the a lovely smooth ice-cream, as we enjoyed the sun and tried to warm up – as it was very 'cool' that morning. We felt we could not leave Belgium without trying one of their waffles which is a Belgium tradition.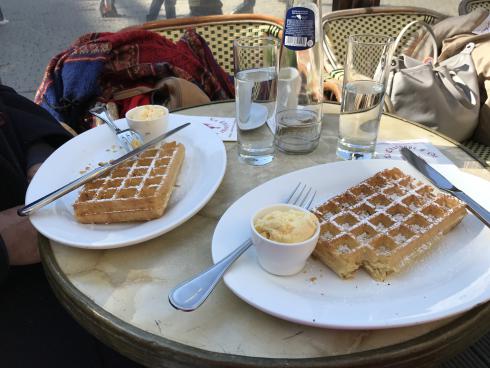 Belgium Waffle and beautiful icecream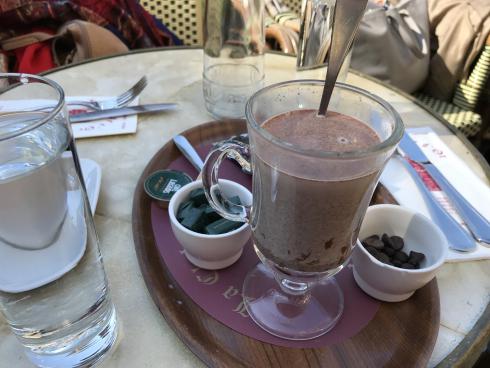 Belguim Hot chocolate with the extra chocolate pieces you can add to make it strnger
We then got a taxi back to collect our luggage and drop us to the railway station because although it was only a few hundred metres it is all cobblestones and uneven surfaces and would have been a real challenge to walk with our luggage.  We caught the train – well three of them actually, to Amiens in France. The trains were a mixture of good and average with the best one being on the shortest journey of course!  We changed trains at Tournai, which is a French speaking town in Belgium near the border, and then again in Lille in Flanders. I tried to go to the toilet in Tournai, but the door was locked and the sign said "closed" in several languages. As it was on the platform I thought they must have wanted you to use the one inside, but could not find one, so I asked an attendant and was told to "Go on the train".  I had not gone on the train we had just got off because of the condition of the toilet.  It was an important lesson though, as I now use the loo on the train no matter what the condition!  I must add here that there are two things I have trouble finding here in Europe and UK – public toilets and rubbish bins. I think they closed the toilets and took the bins away in response to the terror threats. It was something we came up against time and again.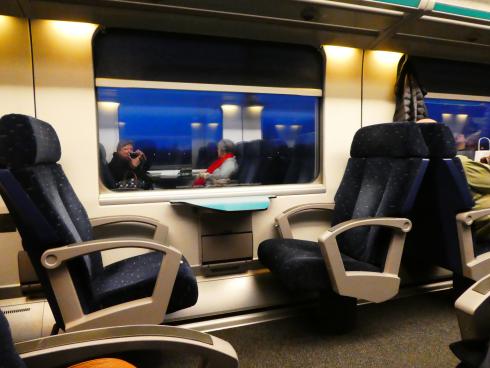 Tables between seats in trains in Europe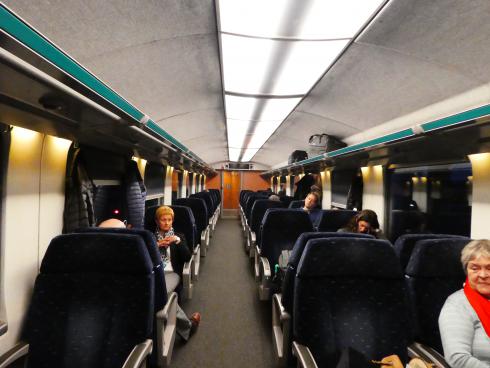 Typical train carriage layout.
I have to say it was a very pleasant way to spend the afternoon – speeding through the Belgium and then French countryside on a lovely day, enjoying the views.  It is amazing how close some of the villages are to one another. As you come through one you can see the spire for one in the distance on one side and another on the other side. Started to see the odd small cemetery in the middle of the paddock or field - miles from any towns - towards the end of the journey. 
Amiens seems to be the main point for the tours of the Somme Battlefields. Not only is it geographically close to most of the battle fields, as a major rail hub and crossroads for highways, it is easy for people to access it.  There is a 943m viaduct to the east of the city called the Jules Verne Viaduct. Yes it is named after the famous author – he lived in Amiens from 1871 until his death in 1905 and for 15 years served as a city councillor.  (How is that for a useful bit of trivia?)  The town has a population of around 136,000 and has one of the largest University Hospitals in France with 1200 beds.
 I think the thing I remember most about Amiens are the Spring flowers. They were everywhere in wonderful abundance.  That was where we saw them at their best I think, as nowhere after, were they as fresh or as abundant.  Unfortunately I did not think to get photo's of them – had I realised they were as good as we would see I would have made a better effort. Our Hotel was right across the road from The Somme River and our only window looked out on it. There were lovely parks along the banks at this point.
I had booked us into the Appart'city  Amiens  which is a new "no frills' apartments that have been built for the student and tourist trade. There were 3 rooms with a total floor space I estimate of no more than 20sqm.  The bathroom was bigger than some and quite adequate.   The bedroom had the twin beds against the wall and not much space between, with a small wardrobe, which had hanging space only, and a small desk with a chair. In the "kitchen" we had a fridge, microwave, stove top with 2 hotplates, a couple of built-ins above and below the sink (with a few basic cooking and crockery items) on one side, and a table (but no chair) against the other wall between the front door and the bathroom door. The front door lock was a doozy. We had to be given lessons on how it works when it was given to us. You had to turn it twice one way and then once the other to open, and when you closed it, to get it to lock you had to turn it once one way and then the other! It seemed you also needed to hold your mouth the right way as well, as it often took a few 'goes' to get it to work.
We soon found it was not such a good idea to be conveniently close to the Railway station. When we emerged from the station on our arrival,  we found the taxi rank right out front. We loaded all our luggage and got in, and then told him the address. He said it was so close we could walk – but he did drive us the couple of blocks and we rewarded him appropriately. The next day after we had done our shopping we had to almost bribe one to drive us home with all our purchases. The last day when we needed to go to the station and rang for a taxi they refused to come so we had to walk.  The ports with the 4 wheels are of no use when there are cobblestones and dragging ports over them is no fun either. My legs were still both very sore after my fall in Singapore so that meant I could not give them a shove with my knees or shins when they got stuck either which did not help.
For dinner that first night we wandered down the road and tried a couple of places before we found Bario Tapas that was serving food that I could eat.  We were very well looked after including being were an Oban single malt at a very reasonable price, when we did not fancy any of the blends on offer.
The next day we did our wonderful tour of Villers-Bretonneaux and the Somme Battlefields, which I have covered in its own blog, so I will say no more here. We got Olivier to drop us off at the supermarket at the end of the tour. We had a large and late lunch so did not want a big meal for dinner, so we bought some things that we could prepare for ourselves, plus make breakfast and some sandwiches to take the next day. Now as most of those who know me are aware, shopping is not one of my favourite activities normally. However, I love to go into the supermarkets in other countries as I travel. I love seeing not only the different things they have to us, but the different ways they display and package things.  I had not 'shopped' in France before, so I had a lovely time. We also bought a bottle of Bushmills whisky, which was on a special. We figured 18 euro for a bottle was better economic value than 8 or 10 a drink. I soon found room in the backpack so I could carry it. Whisky is Judy's drink of choice and I am happy to join her.
The next morning we had to walk to the station as I mentioned before. I was totally exhausted and in a lot of pain by the time we got there, but was lucky that Judy could leave me sitting and recovering while she went off to find out what train and platform we needed to be on. It was another lovely day travelling through the French Countryside again. We recognised many of the sites we had been the day before and sights we had seen for the first about 40 minutes.  There were flowers in bloom everywhere along the way, and all the stations we went through had hanging baskets or planter boxes with lovely colourful displays. As I think I may have already mentioned, the seasons are really embraced here in Europe and everyone makes sure the flowers of spring are displayed wholeheartedly.
It was a beautiful day again, quite warm and in fact it got warmer as the day went on. We had a mixture of standard in trains again – with a bus thrown in. We got to Rouen and had to change. If there is a toilet in the station there - we did not see it. In looking for it though, we found we had to take a bus to Caen.  To do that we had to go out the front and into a section of the car-park set aside for the buses. This is a regular thing at off peak times it seems and happens to several places not just Caen. We both quite enjoyed it actually, firstly as it was easier to hand the luggage to the driver to be loaded than it is to get it on board the train and then find somewhere to put it for the trip. Then, we got to see the countryside from the road and not just the tracks, and it was interesting to go through some of the very small towns when the bus sometimes had to back up and then go forward again, to get around some of the corners or small roundabouts. You could not help but admire the skills of the driver.
At Caen we had to walk from the bus station to the railway station next door.  Another lovely train trip to Bayeux. When we got there though we found we had to walk down stairs and along a tunnel under the tracks and then up on the other side to get out. I was very grateful when a man took my ports (I have 2) off me and carried them up the stairs for me. He left them right at the top so I could see them as I climbed the stairs myself, but by the time I got up to the top, he was no longer in sight for me to thank. Poor Judy was not so lucky and had to drag hers up herself.  We got a taxi to the Hotel, and the taxi driver was delighted to have a French speaking tourist, and he and Judy chatted on so much we nearly missed the turnoff to the Hotel (luckily I recognised the name of the street) and he also gave us some great local knowledge.
I had found a wonderful "Bargain" for our accommodation on the internet the night before.  We booked into the Premiere Classe Bayeux Hotel for just 38 Euro for the night for both of us.  When the taxi dropped us off we found we could not book in for another hour as the reception was 'closed' for a few hours in the afternoon. There were some people sitting at one of the long tables and stools enjoying the sunshine so we sat at the table next to it and did the same. It was so warm we were "sitting in our shirtsleeves " as Judy said – in reality our T-shirts. I spent the time writing the postcards I had bought in Brugge, and Judy read. As I had brought the plastic cups from last night we shared a Bushmills we had bought in Amiens. It was very pleasant. There were flowering bushes (including gorse) and some birds we could hear but not see.  When the time came to book in, we found out the people at the next table were the receptionist/managers.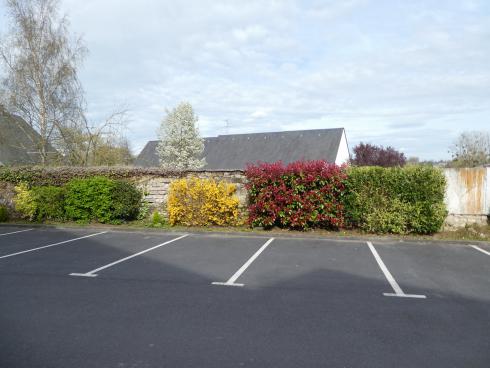 The Yellow gorse bush and other spring flowering shrubs in Bayeux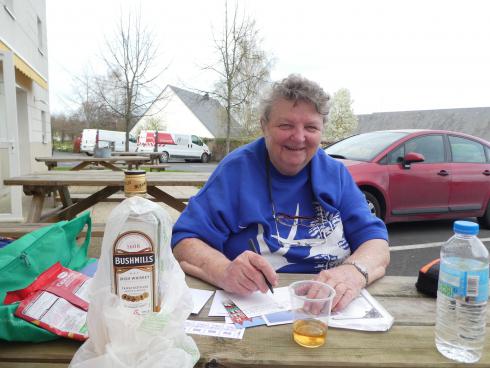 Writing postcards while waiting to book into Hotel at Bayeux
We should have taken more notice of the price, than the photo's on the internet site. It is relatively new or renovated, but how they were able to take the photo's and have them look as spacious as they have, is a complete mystery to me. Anyway, the room we had was a 'triple" so there were two beds and then a top bunk along the wall and over the head of the two lower beds. We used this to store a few things.  The entire room was I estimate no more than 3m by 4 m  which included a bathroom in the corner. That was one of the prefab ones where you can sit on the loo, clean your teeth or have a shower at the same time! At the far side, beside the window was a very small desk with a chair. There was nowhere to put luggage, so it went onto our beds as we got out what we needed, then it went on the floor when we needed the bed. Had there been a fire in the middle of the night I would have had to move my luggage in order to get the door open! Still, it was clean and there was plenty of hot water and the shower controls were easy to use (which is more than you can say for many) so we were happy enough. Besides we had had the wonderful time outside before we checked in. For dinner we walked over to the upmarket hotel next door that had a freestanding restaurant where we got a lovely meal. Overall a wonderful day, until I went on the internet to find that Cyclone Debbie had hit Airlie Beach and Bowen hard and was causing big floods in Mackay and was now heading south. Lots of posts on 'facebook' gave me a good idea of the damage. Naturally my thoughts were with all my QCWA friends in these areas and I was sad to hear some had been badly affected.
We woke, packed, checked out and left the luggage there again while we walked into Bayeux – as the taxi driver had suggested the day before. It was a glorious day, the sun was out, the flowers were everywhere and all was well in our world. We stopped at a café for a coffee and snack. I could not eat the chicken wings I ordered as they were coated in something that made my lips burn, swell and peel as soon as they touched them. Did not matter too much as I had brought the crusty rolls home from dinner last night and had them with vegemite before we left the Hotel.  The café was right across from the Bayeux Cathedral which according to the signs I could see "was consecrated on 14th July 1077 by Bishop Odo of Conteville in the presence of his illustrious brother William the Conqueror, Duke of Normandy and King of England." It was pretty impressive from outside.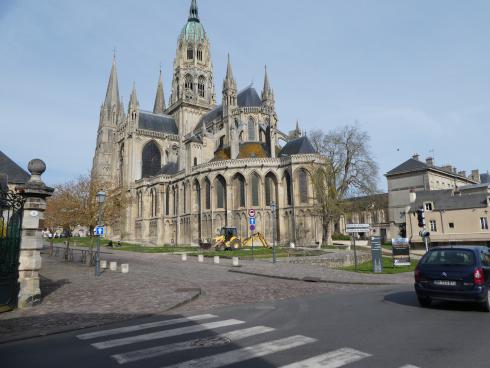 Bayeux Cathedral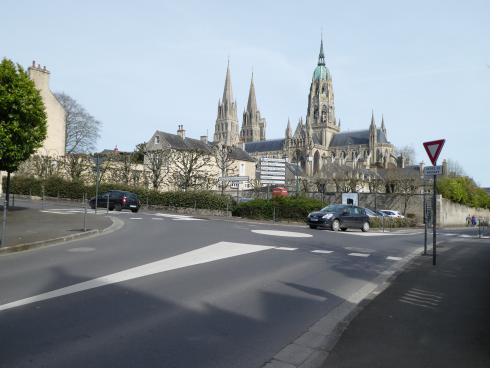 Street signs say it all - Normanby to the left, Tapestry to the right.
We then went to see the Bayeux Tapestry, which is housed in the museum.  It is an amazing document – 70 metres long and over 1000 years old. Yes that is a THOUSAND years old. It is in a specially constructed and climate controlled cabinet that is semi-circular and in a semi darkened room, which is lit with special light to reduce damage caused by light. There are plenty of benches on the other side where you can sit to just try to take it in.  It is woven with woollen thread on canvas and tells the story of William the Conqueror. You can not take photo's of the document (naturally) and I can't take a photo of the postcard I bought, but Judy bought a tea-towel and I took a photo of that to give you some idea of what it looks like. We had planned this part of our trip in order to be able to see it and I was so pleased we had.  There was another Museum dedicated to William the Conqueror but we decided we did not have sufficient interest (or time) to go through that one too.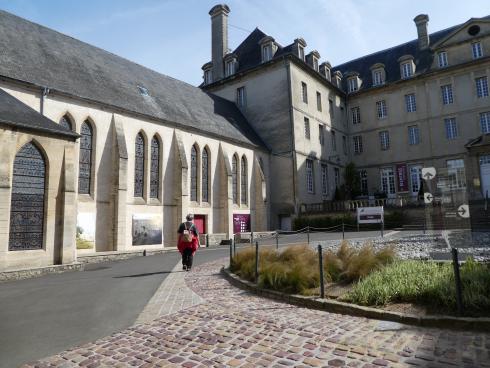 Museum where Bayeux Tapistry is housed.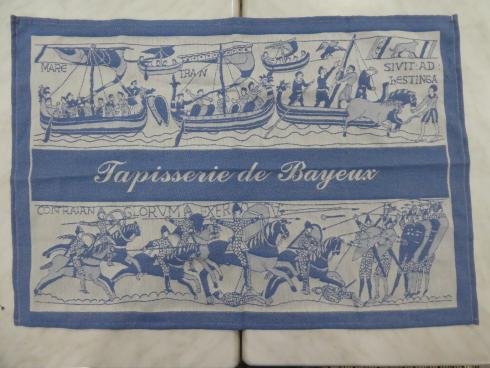 The teatowel my friend bought.
Being hungry by then, we went to a nearby "Creperie" which was opposite the Museum where the Tapestry is housed and beside an old (and still working) watermill.  It was a truly delightful setting, beside the creek with a park on the other side of the creek and overhanging trees to shade the diners.  We both had a lovely lunch -  mine included a beautiful light crepe with lemon and sugar to finish it off.  Well why go to a Creperie if you don't have a crepe – no one does it better than the French.
Bayeux  has many other things to do and see which I would like to do at a later time. The  D-Day Landings and The Battle of Normandy  all happened in this area. There is a Festival each year ( 28th May to 12 June  in 2017) to celebrate these events. There were eight pages in the Bayeux Bessin Tourist Guide for 2016 devoted to Tours guided, and self drive of the D- Day Landing sites and significant battles in the 100 days of the Normandy conflict, however having only 2 days before done the Tour of the Somme Battlefields I felt I was not up to them at this time.
The same Tourist Guide had details for walks beside River Aure which I think look wonderful; 2 pages of the Arts, Crafts, and creative works  in the area and up to 4 pages of places to follow the Bessin Heritage -  from Several Chateau open to the Public,  to Monuments and Museums  (water mill, Mining, ships and lace, locomotives and old cars, an animal park, several gardens and parks
It goes on to list Maritime tradition and Agricultural tradition places and then places where you can see wine, chocolate and caramel making and get to sample them. There are very comprehensive maps of how to get there and how to find all the different exhibits. Not to mention about 40 pages of places to stay and eat be entertained and shop.   I loved reading all about all there is to do in this area, however we had time for none of it this trip, as we had to be in Cherbourg that night. I was very pleased we had spent the time we did in Bayeux and know to allow more time there next time.
We walked back to the Station and got a taxi, and asked him to give us a tour of the old parts of the city which he did with lots of commentary (in French) which Judy translated bits for me. Again, he loved having someone who spoke French and he (like all before him) congratulated Judy on her language.   I had noticed that the longer we were there the more relaxed and fluent she became – well at least to my inexperienced ear.  It was a very interesting city to see. Did you know that there was a Castle once, which was destroyed by one of the Louis in the Revolution. The site is now a park, and it was in this park that General De Gaulle made his first speech when France was liberated by the Normanby Landings. Bayeux was the first town liberated and it was from here the first actions of the new French State were taken, so it is very significant in recent history.  The two oldest houses in Bayeux are Tudor Houses. The city of Bayeux was mostly spared from destruction during the landings because it was Himmler's wife's birthday so all the hierarchy were celebrating with them, and many troops had also been given leave. So the local Priest let the allies know there was no point wasting their efforts bombing them as there were no Germans there.  The streets are very narrow and the Yank Tanks were too wide to go down many of them.  To this day, some have kerbing that is rounded due to being run over by the tanks.  "Cook Street" is so named because that was where all the cooks who worked in the Restaurants lived.  The main street is called Grand Rue or Great Street, but in reality it is very narrow. We also went past a very large US Cemetery from WWII.
We went back to collect our luggage and to the Station to catch our train.  We had to take the stairs and travel under the track again to get to the right platform but this time we both got help up the stairs by a couple of young men.  That was something else we noted, the number of young people – especially men – who were happy to help us on and off trains and stairs with our luggage. Not only was it wonderful to have the help it was lovely to see. I do not remember having this much help offered before – but I guess I was younger then too. The train we were supposed to take did not come. First they said it was late, then later, and in the end that it was not coming and we needed to take the following train – which did turn up and was on time.