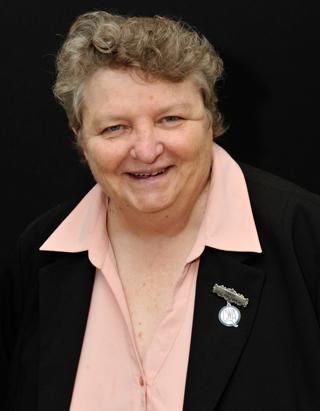 Meg Trimble
A bit about me.
I am a born and bred Cairns resident - the eldest of three girls. My primary school, Edge Hill, celebrated its 75th anniversary in 2015, and my High School - Cairns High - is 100 in 2017. In my youth I played a lot of sport, excelling in hockey which I played at a State Rep level. My sisters and I were original members of Cairns Pony Club. A back injury put paid to my sporting career in 1966. After I left school I 'went bush' to work on stations, which I resumed after my back injury. However I could no longer do the heavy manual work I had, so became a station cook. Then followed a stint in the Gulf of Carpentaria in the prawn industry - mainly working in the factory in Karumba but having most of '69 season on the boats - including a mothership.  (While here I did a lot of shooting - including of crocs - hence the "crocodilemeg" handle for the emails.) I then spent a few years travelling and doing all sorts of jobs - many of them cooking - and far too many to list. In 1976 I returned to Cairns and decided it was time to stop using my brawn and start using my brain. In partnership, I ran my own business (takeaway) then worked in marine spare parts, as admin officer for the private hospital, and in mining supplies before going into Real Estate Sales in 1978. I did this for the rest of my working life, running my own businesses from '82, and doing Property and Body Corporate Management as well as sales. I took on training including for TAFE and REIQ and at one stage (in partnership) also had a training company (Brimcorp). After I retired from Real Estate, I was heavily involved with the Queensland Country Women's Association (QCWA) including a stint as the State Vice President for the Northern Region.  I was involved in local organisations in some of the Communities I lived in as I travelled, and since my return to Cairns  - and still continue to be. Several of these were Board positions.  In 2016 I was appointed to the Energy and Water Ombudsman Qld  Advisory Committee. I like to think I have made a positive difference whenever I have been involved. I currently still do some training and guest speaking for all sorts of companies and groups.  I particularly enjoy helping small communities find ways to lift their profile and attract more visitors to their area. I also enjoy helping people record their life histories. It is wonderful to record what amazing things some very ordinary Aussies have done and the interesting lives they have led, so their families have a record of it for all time. In my spare time I like to write.​
How this Blog came about
The idea for this blog came about in January 2017 because I was about to head off overseas again. On previous trips I would email Travel Logs back to my friends and colleagues.  In the end I had so many people asking to be on my mailing list it would take nearly as long to email them off (in batches) as it took to write it. Also I did not include photo's with them. So I thought if I set up a blog I could include photo's as well as text and it would be less time consuming for me, and even better for my friends and followers. (I do enjoy taking the photo's so it is great to be able to share at least a few of them with others.)
Once I started to explore what was possible with a blog,  I saw the advantage of having the ability to add more than just my travels. I had been instrumental in the formation of the Bouncing Back program for The Queensland Country Women's Association (QCWA), so decided I would like to include information on that.  It went from there. You can see the result for yourself. I expect it to change and evolve as I go – and your feedback will help in that aspect. So I would love to have your comments.
I found the photo I had taken of the sign in Mt Isa  and thought it would be great for my 'blog' - firstly because it shows many of the places I have been or am going to, and secondly because it is symbolic of life. We have signs along the way and the choices we make decide the path we follow.
I originally thought I would call it "A Broad abroad" but that was taken - and I rejected the idea of "A broad Broad abroad"!!! My next thought was  "Meg Says" but it was gone too – so it has ended up as "Megs take on…" I hope you enjoy what is just my take on things as I go. I am not setting out to insult anyone – just share my thoughts and experiences - and hope you enjoy the trip as much as I do. I have included some of the Travel logs from my previous travels for you to enjoy. I will add more of them as time allows.
More Information.
I am one of those people who keep 'playing' with things to make it better. Which means that already since I put the first of these up I have gone back and added or changed parts or photo's. Just beware of that when you read them!
On the 1st March 2017 I was interviewed by Fiona Sewell of ABC Radio Far North. Listen in on this link.  
https://soundcloud.com/abcfarnorth/a-far-northern-life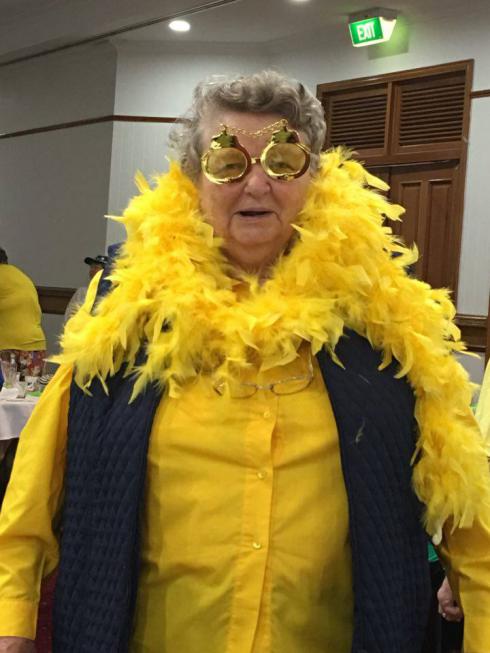 At the Northern Region dinner at Gladstone in 2016 we were representing Aust at Rio. Here is me in all yellow.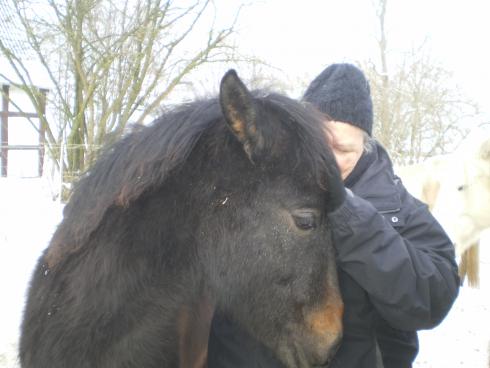 Me being snuggled by a young colt in Germany