By Meg Trimble | March 10, 2017
I have already mentioned the Cyclorama, but in addition there are several other resident artists on the Island, also some potters, weavers, wood workers, soap makers and others with various artistic skills.  Several art galleries exhibit and sell their art, and souvenir shops sell their other wares. I am not surprised that people with an artistic flair flourish here, as the natural beauty is just all around you at every turn.   You can buy examples of their work to bring home as framed prints, or postcards, note pads, or as printed patterns on materials, plus the usual T shirts, coasters, bowls, key rings, vases, coffee mugs etc. I brought a couple of locally designed place mats home for my sister Sue who had a birthday the day after I returned. She just loved them – as I knew she would as soon as I saw them! So if you are 'in' to art there is lots for you to see and appreciate. There are lessons available on the Island and there seem to be tours for people who do paint, to come and do a workshop on a regular basis, with several different tutors.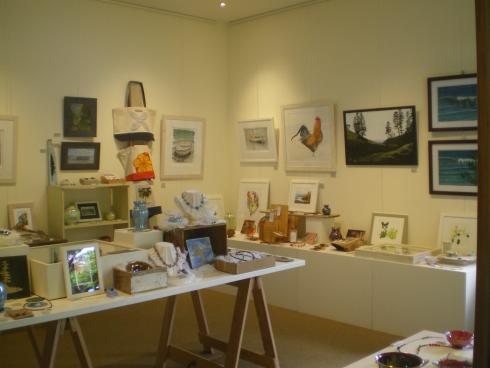 Some of the many art objects in the Gallery Guava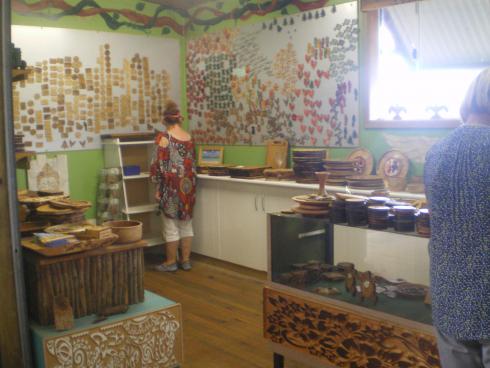 Some of the woodwork souvenirs.
On one of our tours we met Darren Bates who demonstrated his wood turning skills.  He is a 7th generation descendant whose first preference is fishing – but when the weather is bad he is happy to play in his shed. He makes a wonderful selection of bowls and other souvenirs from the local timber. He said it is very good to work, and because it has so many knots, it means every piece is individual in its pattern. Norfolk Pine certainly seems to be a good timber for doing this sort of craft. He confirmed it as being totally unsuitable for ships masts.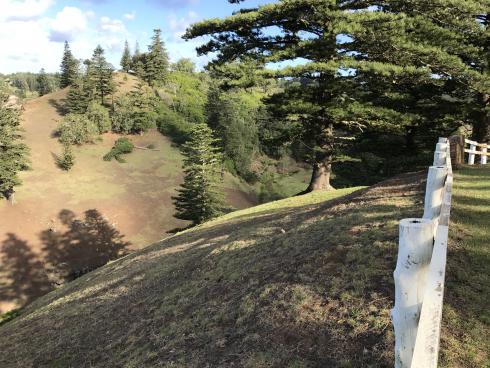 Country Scene on Prince Philip Drive that took my eye.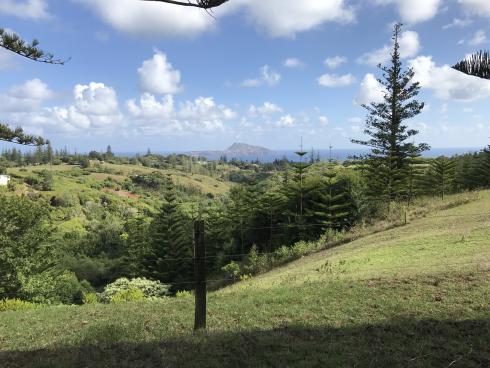 This is the view to Philip Island from in front of the school
It goes without saying that Norfolk Island is also a photographers paradise.  Despite having trouble with my camera, I still managed to take over 400 photo's on it and well over 100 on my phone. Finding just a few to use in the blog to try to convey to you the beauty and charm and interesting facets is proving to be a challenge.  Some times I took what I thought was the 'definitive' shot from a particular location. But then I might be back there a couple of days later and the tide was different, or it was a different time of day or there was more (or less) sun and it looked even better – so I had to take it again and then a few days later it was different again and beautiful all over again, so another shot just "Had' to be taken. Thank goodness for digital cameras. In the days when I used film it kept me broke when I went to somewhere like Norfolk Island. I would come home with so many films I could only afford to get them developed a few at a time over the next few months. Was so frustrating!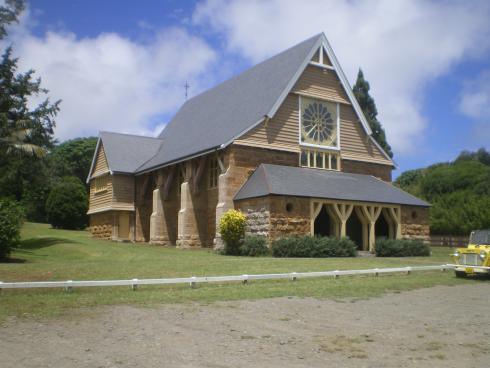 The beautiful St Barnabas Church.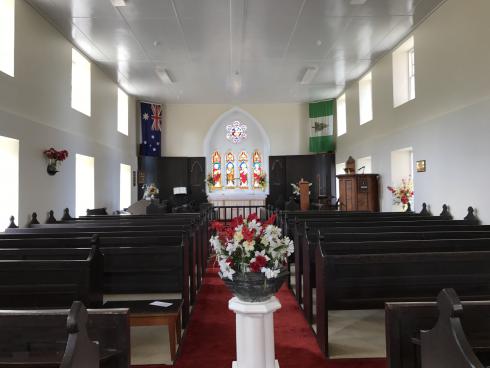 Inside the All Saints Church which is upstairs in the Commissariat Store on Quality Row.
There are so many great 'photo ops' – the Norfolk Palms provide an interesting backdrop to many of them. The ruins, the old restored buildings, the natural beauty, the rugged coast line, the beautiful churches of St Barnabas and All Saints, the cattle and chooks who meander everywhere  - then the stark beauty of the sunrise and sunsets – just to mention a few. Missed what I thought would have been a classic one day because I was on a bus tour at the time. There were four poddy calves sitting in the traffic island in the middle of the busiest intersection outside of the town area, and being near the school just after school came out, there was traffic going all directions. They were ignoring all that and  sat there bellowing for their mums. Classic!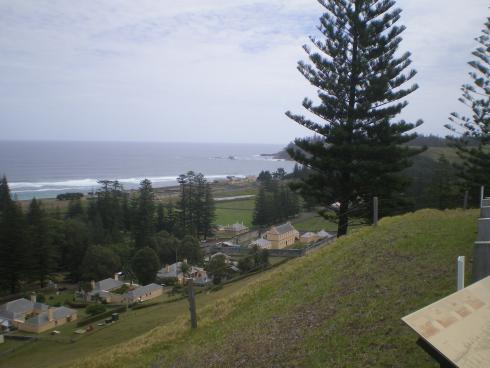 From the Queen Elizabeth Lookout - Kingston, Quality Row and the Pier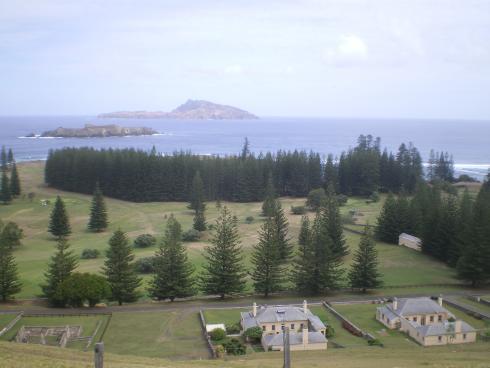 From Queen Elizabeth Lookout to Philip and Nepean Islands with Quality Row in Foeground
Apart from the National Parks and Botanic Gardens there are lots of gardens to enjoy on Norfolk. Some are in public spaces eg The Queen Victoria Gardens, and some are at the different Hotels and Resorts, others are on tours and still others open to the public at set times/days. I did not have enough time to see even half of the ones I would have liked to. I could spend half a day in the Discovery Centre at the Botanic Gardens alone I think. It was interesting to see some of the trees/shrubs we grow at home here in Far North Queensland flourishing there too, often alongside plants I normally associate with a far cooler climate. I had to take a photo of the pear tree at the Resort I stayed at which was bearing fruit, alongside some palm trees. One does not normally expect to see palms and pear trees together. The Morten Bay figs on New Farm Road are some of the biggest and best I have ever seen.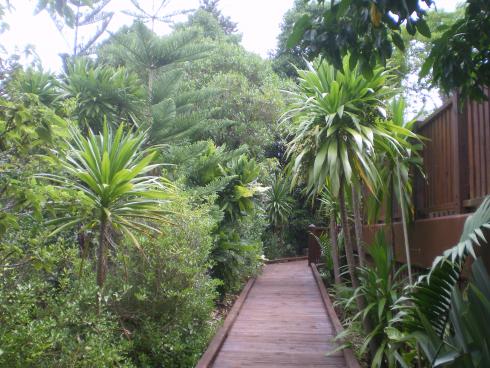 They have wonderful walkways in the Botanical Gardens to make your journey easier. (Also lots of steps.)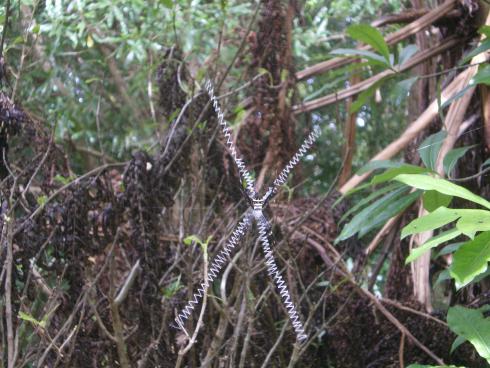 Magnificent Spiders web in the Botanic Gardens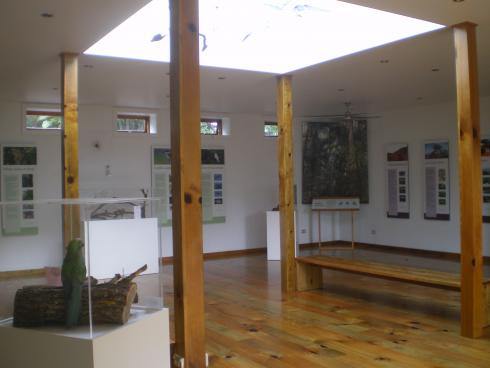 This is a small section of the Discovery Centre in the Botanic Gardens - which is why I said I could spend half a day there.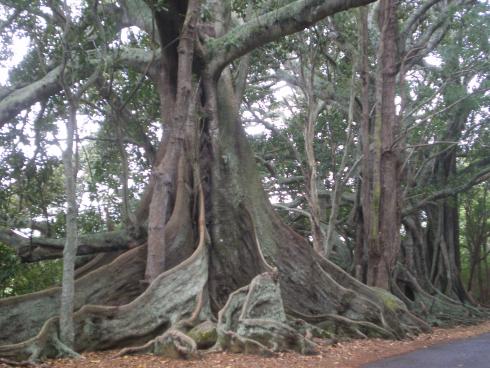 There is a grove of these magnificent Morten Bay Figs.
I was particularly taken at one garden I went to on one of the tours. They had 2 New Zealand kauri pines growing – seemingly the only ones on the island. They also had a large leaf Myrta  - a local plant which had nearly died out but has now been reintroduced into other areas on the island, and a Maple tree local to NI which has black olive shaped berries which is a favourite food of the green parrot which is found only on one section of NI.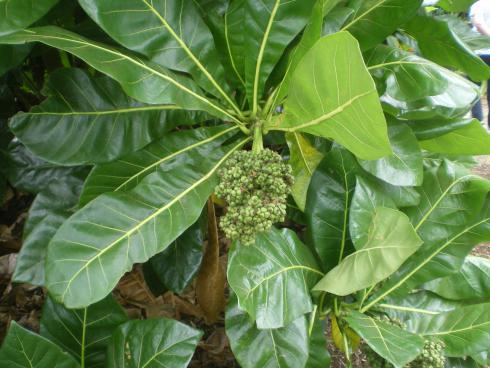 The large leaf Myrta which was nearly extinct and is still endengangered.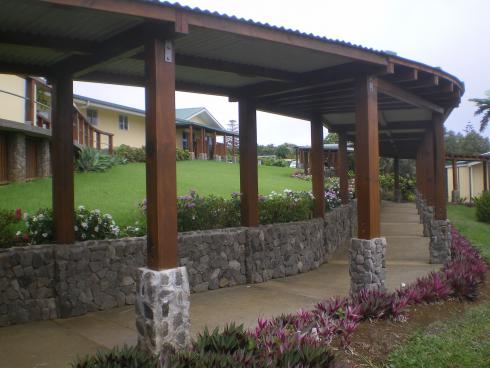 The gardens and pathways at the South Pacific Resort.
The most popular thing on the tour though was the many different Hibiscus they had – most of which were in flower. Even I was impressed – as I have seldom seen as many different types and colours in one place – even though they are very common here in FNQ. I am hoping I can bring some of my Cairns Garden Club friends with me next time. I reckon they would love it.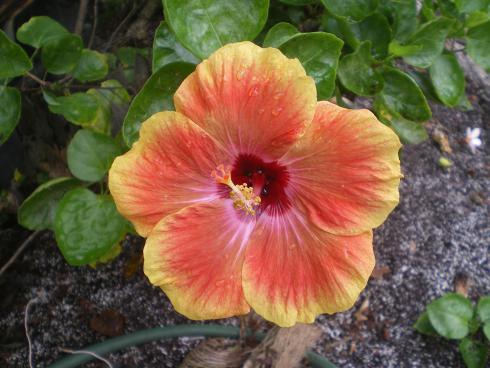 Isn't the colour of this Hibiscus lovely?
I have not seen a Hibiscus like this one before.
Sport is obviously a large part of Island life. I have mentioned the Golf Course, well, the Clubhouse is a restored historic house on Quality Row. They had a tournament the first week we were there, with golfers from all over attending to be part of it and staying on to enjoy the island afterwards.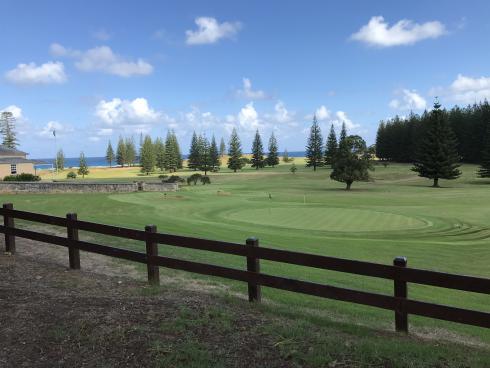 One of the few times there was no-one playing on the picturescue Golf Course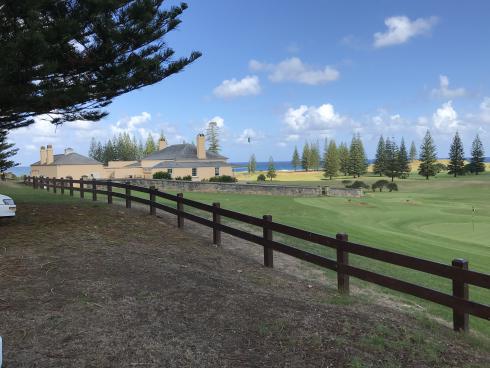 One of the restored building on Quality Row is now the Golf Clubhouse.
The second week there was a Bowls Tournament. Now I did not have a roll, so can not comment on the state of the green, but I can assure you the food was good both times we ate there. I also noted a pistol club and gun club (think it is clay target shooting) when we went to Anson Bay,  a pony club and Archery. We ate at the Leagues Club, but it is only the Juniors that still play as they no longer have enough young men for Senior teams. (Seems they had 4 teams for years, then the banks introduced women tellers, so less bank johnies to make up their teams…!! Well that is what they are blaming anyway!) Then when I read the local rag (The Norfolk Ilander) I found notes from Touch Football, Triathlon, Cricket, Rugby and Tennis, not to mention reports from the Golf, The Indoor and Outdoor Bowls, and the results of the 37th Norfolk Island Clay target Championships. There were also notices of AGM's for the Junior Rugby League, Netball, Squash, U3A, Norfolk Island Jazzes it up Inc and a special general meeting of N.A.T.S  to approve and adopt a constitution. (Have no idea if that is a sporting, arty or political group.). I also know they have a Lions Club as they are doing some of the restoration work at Kingston, and I noted that the Telescope at the Queen Elizabeth Lookout was donated by the Quota Club.  So all in all I think they have things pretty well covered – all they need is a CWA Branch!!!
I noticed a calendar of events for the year published in a few places.  Every month there is something on – most designed to bring people to the Island. For example in March they have First Fleet Anniversary celebrations, U3A First Fleet Anniversary celebrations, Norfolk Ocean Challenge (Outrigger canoes) Line Dancing Festival and three painting workshops with different painters. In April there is a Veterans' Tennis Championship, Wildmob NI Conservation Project, and Anzac celebrations – plus another artist workshop. Then in May there is a Quilt Retreat, (take note all you CWA ladies) another Bowls tournament and a Country Music festival. So it goes on all year. I noted that they have the Red Hatters Gathering in August, a Scrabble Championship in September, the Norfolk Island Fly –in (Model aero challenge) and Silk Painting Workshop and another Quilters Getaway in October,  a Food Festival  and Around the Island relay race in November and December Has a Pistol Shooting Championship and a Jazz Festival – just to pull out a few unusual ones with more painting and photography workshops and golf and bowls events. You have to take your hat off to them.  They really only have one industry on the Island – Tourism – (because everything else depends on that) and they work hard to make sure it is a success. The people behind many of these seem to be Norfolk Island Travel Centre so I suggest you check them out at www.norfolkislandtravelcentre.com and they can book everything for you. When I spoke to them they said they can 'personalise' the tour for people with special interests or limited time.
There is a winery on the island – so naturally I had to go and check it out. It is on Two Chimneys Road and is called Two Chimneys Wines. It has also won some Tourism Awards. They open Tuesday to Sunday 11am to 6pm and offer wine tastings and sales – and a Vineyard Lunch platter. The building is lovely for a start, the sort of place that entices you to come and relax a while. Hosts Rod and Noelene could not have been more welcoming or helpful. They have a small selection of both white and red and a Tawney Port. I tried most of them.  As I have noted elsewhere I am normally a 'red' drinker, but a cold sample of their Semillon Sauvignon Blanc means it was included in the carton I purchased, as was their Tawney Port. My Favourite though is their "Classic Notes" red.  Their 2010 Reserve red is made from a selection of  Cab Sav, Merlot and Petit Verdot grapes. My order arrived only a few days after I got home – so the service is excellent.  (That means that as I sit typing I am sipping on a very smooth Shiraz.) We did not try the platter, (we had just eaten) but others were partaking while we were there and by the look of it, and their remarks, it has to be on my "next time" list. I can think of far worse ways to spend my time than a visit here. So, if you like wine, make sure you get there.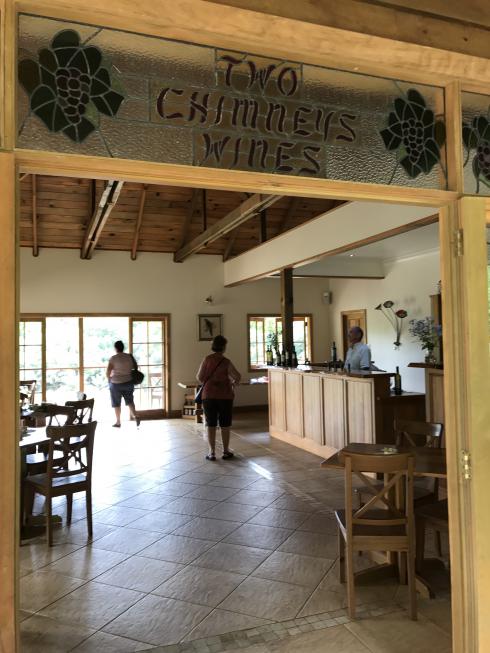 The very inviting entry to Two Chimney Wines.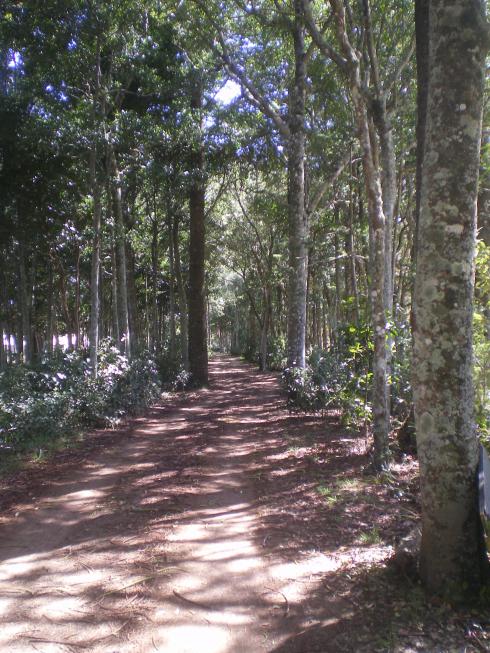 There is nothing more enticing than a bush track. This one leads to Bedrock - for Cafe and Massage
Most of the Islanders seem to have at least 2 jobs – albeit part time. For example the guy who drove our bus in from the airport was our host at one of the places we went to on one tour and one of the participants in another of the tours. Another lady who drove us for two of our tours works full time for the Adminstrative office.  The lady who sold my friends new watches at the Jewellery store was also the lady who checked us in at the airport for our return flight, and then checked our tickets when we boarded. The lady who did the demonstration of weaving skills on the Cultural Tour we ran into at a couple of different places over the next week, and then she was running a stall at the weekly Sunday Markets. These run in the park near the Information Centre every Sunday morning. Many locals sell locally grown and produced products and some souvenirs.  Always worth going for a look at any markets I reckon and these were the same. Lots of local colour on display and many of them were talking between themselves in the Norfolk language.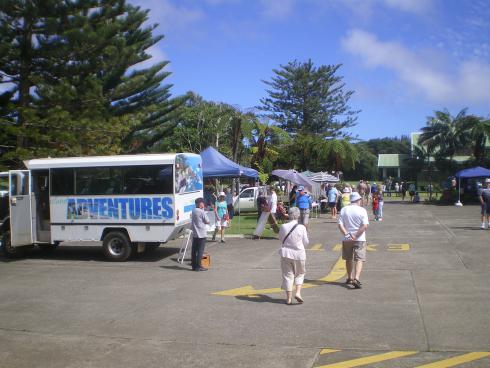 Some of the stalls at the popular Sunday Markets where you can but fresh produce or local handcrafts and souvenirs.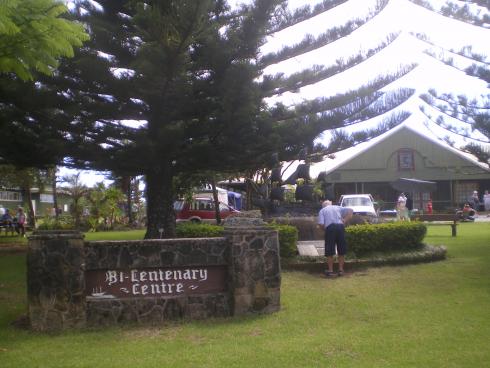 Beautiful venue for the Sunday Markets
I had had a fall a few days before I left, and had trouble with a soft bed the first couple of nights so I was in some pain and in need of a good massage. There were several to choose from and I chose to go to see Heidi at Bedrock Therapeutic Massage Therapy.  She operates from her property, which is in the North East corner of the Island – and all of 15 minutes drive from where we were staying! It is a beautiful spot and she also does teas and lunches. For these you sit on the verandah and look down the rugged coastline to the Cook Memorial. Very relaxing. There is a similar view from the massage room. She is very experienced (over 26 years including 8 working with Melbourne Chiropractors) and offers a range of treatments including  "Friends and Lovers Pamper Package combinations" which can include morning or afternoon tea, or a cheese platter and wine.  I am sorry she is so far from where I live or I would be a regular client. She does massage before and after the business operates so there is no conflict. Like many she is multi- skilled being the cook as well. She can't do both, hence the separation.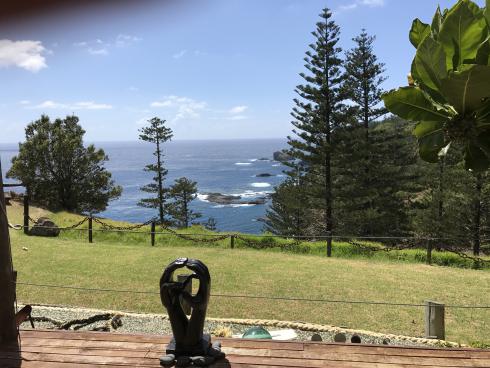 This relaxing view from Bedrock - towards Capt Cook Memorial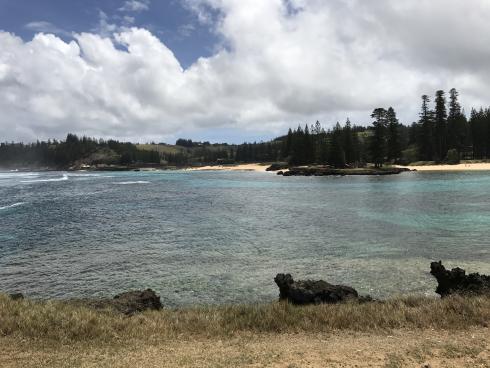 Emily Bay, Slaughter Bay and Kingston from Point Hunter.
There are several beaches (from memory I think they said 7)  where you can go swimming, but the easiest to access and probably the safest is at Emily Bay, which is at Kingston – at the far end of  the reef from where the Pier is. This is truly a beautiful spot and quite a sheltered spot so many people frequent it. As do the pigeons, sparrows and ducks who flock to your table as soon as you bring out the food. There are plenty of picnic tables, change rooms and toilets, and several boats work in that area to take people out to view the reef – but not when we were there as the seas were a bit rough. On Point Hunter stands what the locals call "Lone Pine". It stands alone as a sentinel – and has been there for approx. 600 years flourishing despite the constant salt water spray. There are no other trees anywhere near it – hence the name. I found it very evocative.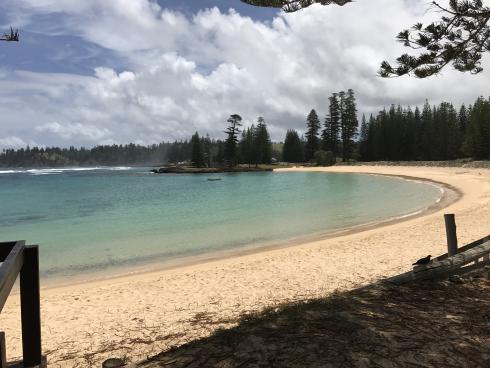 Emily Bay Looking back past Slaughter Bay to Kingston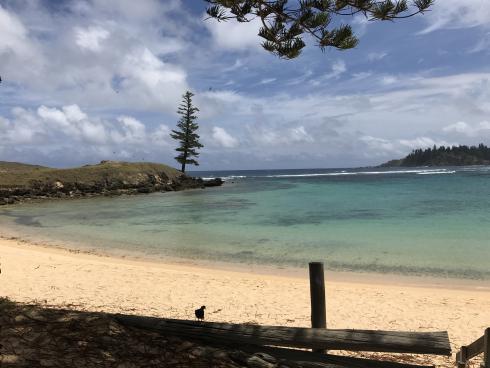 Emily Bay and Lone Pine. Notice there are no other trees near it.
 I was told by a local it is a great place to see the sunset, so on our last night we delayed our dinner booking so we could take in sunset from Emily Bay.  As it turned out I was able to incorporate the Lone Pine into the photo – and I am sure you will agree it was a special moment and a great way to finish up our last full day on the Island.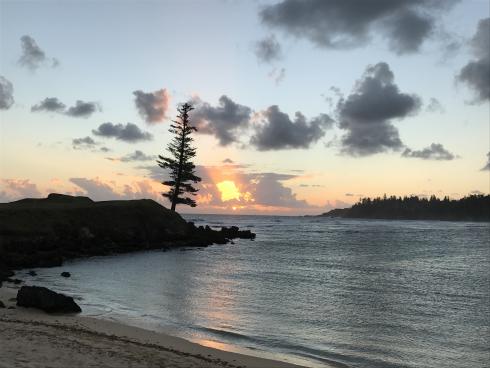 Lone Pine in the Sunset at Emily Bay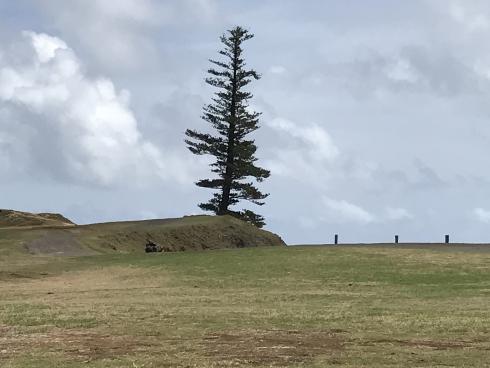 A pine - alone. Point Hunter
As it is an Island I had envisage lots of boating adventure. Well there are some available but I didn't get to experience them – this time! I saw at least 2 companies offering Fishing trips, Scenic Excursions and access to Philip Island for trekking – with a local guide. I think I could probably spend a week just doing these trips. Gear is supplied for your fishing trips, but you will need your own trekking boots backpack etc for the treks. You can check out what they have to offer on http://www.advancefishingnorfolk.com with Darren Bates or at   www.fishingnorfolkisland.com with Dave Bigg  - both of whom are  born and bred Island residents.
Some other things I have on my "next trip' list are The Breakfast Bushwalk and Cliff top Barbecue,  (3.5km stroll through Palm Glen Reserve through Mt Bates to Captain Cook Monument with a cliff top barbecue at the end) Progressive Dinner (3 course meal with different Norfolk Island families at their homes) Cheese tour (local boutique dairy producing cheese) Farm and Industry Tour  (which lets you see some of the other industries on the island including market gardening, Kentia seed exports, soft drink manufacture pig farming) Off Road Island Adventures (on an 18 seater 4X4 high clearance bus to isolated areas) and the Pitcairn Settlers Village. There are more tours and I am sure the more I look the more I will see which would be interesting to do.  You can check things out for yourself with the Visitor Information Centre at www.norfolkisland.com or Baunti Escapes at www.bauntiescapes.com or with Pine Tree Tours at www.pinetreetours.com  not to forget the afore mentioned Norfolk Island Travel Centre at www.norfolkislandtravelcentre.com all of whom can give you full details on these and the dozens of other tours you can do.
I also want to have at least 9 holes of golf on their beautiful course and would love to have a roll at the Bowls club. (Am starting to think I need to go for 3 months!!!)
SHOPPING!
A chronic "Shopoholic" is well catered for on Norfolk Island. Currently goods are still duty free, but you have to be careful of the quantities you take back to Australia/New Zealand so as not to exceed their limits.  How long this will continue for I do not know. There are 3 shoe shops, and one of them – Franks -  is two stories high. I don't recall the last time I saw a two storey shoe shop and it is well stocked.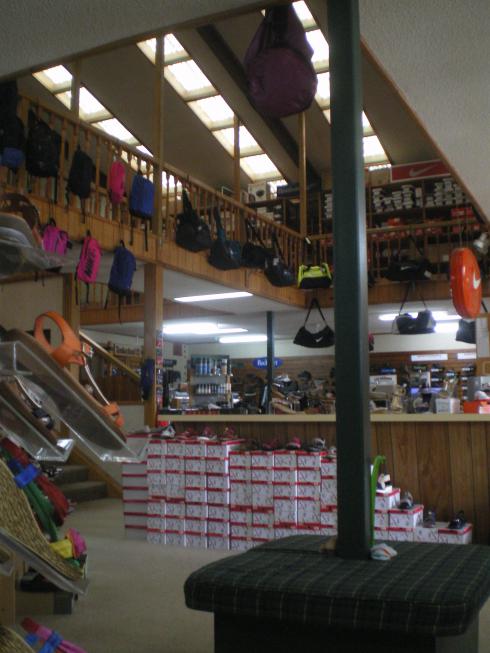 Two stories of shoes at Franks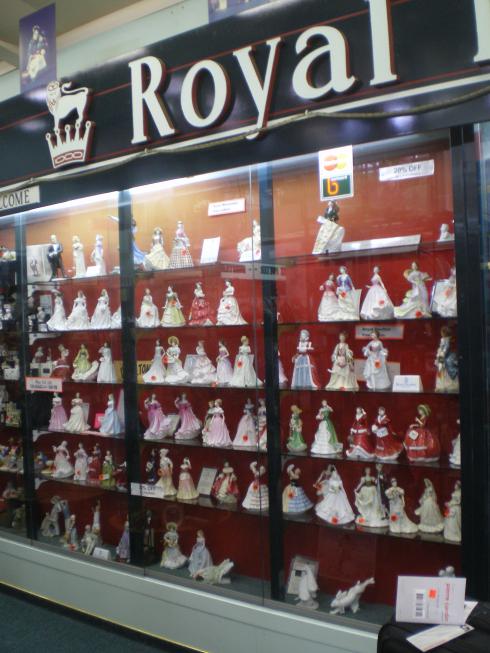 Small sample of the fine china on display at the Pharmacy
One of the Pharmacies has the biggest display of good quality china I have seen since Bolands (local department store in Cairns for much of the 20th century that was bought out by David Jones) in the 50's. I have a friend in QCWA who sprang to mind as soon as I saw their sign as we drove in on the bus. I had to go and check it out at my first chance. The only email I got out in 11 days was to Robyn, saying I was thinking of her and she needs to go to Norfolk Island. Later I found some in some of the other shops as well.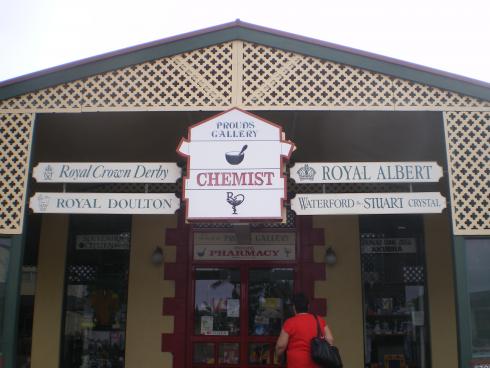 The sign that caught my eye as we came in on the bus from the Airport.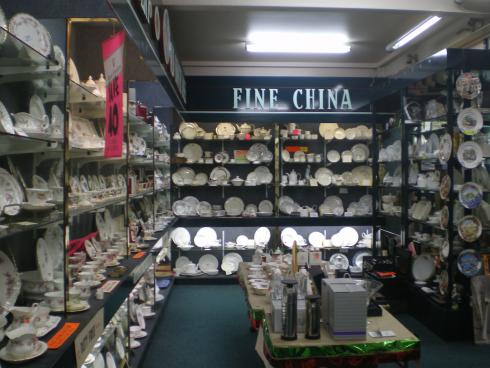 More Fine China - and this is a quarter of what is there!!!
Jewellery is another item well catered for on the island. At least 3 of them as well and other shops also selling some bits and pieces.  The "Grog shop" is huge and has a vast selection of Aussie and New Zealand beers and wines plus a vast array of spirits. On production of your Boarding Pass after you arrive you can get a (one off) discount on spirits – from memory it was 30%.
Yes there are lots of places selling souvenirs, (few "tacky" ones I have to say – mostly local made)but they are also selling lots of other electronic,  sporting goods and anything you can think of as well.  "Pete's Place" advertise themselves as the "Most Interesting Store" and after a few Minutes in there I think they are not far wrong.  But there are dozens of others. As one ad I saw said "It is not where to start it is Where to stop" – and I think that is pretty spot on.