By Meg Trimble | May 10, 2017
I had been looking forward to having a bit of a look around Cherbourg, especially once I was aware of its connection with the Titanic. It was not to be.Because we were so late arriving we went straight from the train station to the boarding terminal at Cherbourg. As it turned out we could have taken time to have a look around the town as we had been told the final loading was at 8.30pm. It turns out that is for the vehicles. Ours loading did not start till then.  Not to worry, we managed to find a bar and have a Jamieson's while we waited. We had also been approached by a Polish man in the check-in area and asked to 'keep an eye on" the middle aged woman who was with him. As she had booked independently from him she could not board with him in their vehicle but she spoke no French or English and he was worried about her.    We had agreed. She was very quiet and grateful just to have someone to sit with I think. When we arrived at the bar area she went off to the "Ladies' and when she came back she first sat at the table next to us, but as soon as I indicated for her to join us she did so in a flash.
We were at the front of the queue to be processed and got through the security check on a hand-wave. I had to make sure I had my passport stamped for the exit so they had to phone for someone to come and do it.  There was a party of French school students – about Grade 9 or 10 Judy estimated – and we noted the Security made each of them open their bags and went through each of them very carefully. We were not sure if it was to scare them, or try to calm them down a bit, or to show them how things work in the real world, but a couple were a little more sombre faced when they came out of there than before. Mind you it did not last long!
Once we were all processed a bus turned up, we got ourselves and our luggage aboard, and were driven across the wharf area and on to the Ferry -  the MV Oscar Wilde. It was huge. All the vehicles had been loaded by then and I found it interesting how all the semi's we had noted earlier parked on the wharf apron were on board. I noted they have large chains they use to fix them down at several points. We were first on and last off the bus, and the driver kindly loaded and unloaded our (heavy) ports for us and then a couple of the workers who had been tying down the vehicles took them up to the cabins for us. And I might add we were happy to let them.  After we were safely on board the Ferry the Polish lady knew she had a cabin on 5th level and we let her off the lift there and never saw her again.
I noted some interesting Procedures for the vehicles in the Irish Ferries Information and Guide brochure - "The loading of vehicles onto Oscar Wilde is not as straightforward as it may seem. To deliver the safest weight distribution possible a vehicle that checked in after you may be loaded before you. Likewise vehicles loaded after you may disembark before you." I noted also that you have to make sure the handbrake is on, the vehicle is left in gear and that all portable gas cylinders are safely secured and turned off.  Pets must leave the vehicle and go to special pet kennels on the car deck and adult passengers are only allowed there at set times – subject to weather and safety conditions. (Only exceptions are officially listed assistance dogs.) On disembarkation you must not proceed to the vehicle until told to do so. Likewise do not start the motor or move until instructed and only as instructed.
The cabin was relatively spacious – in fact quite luxurious in comparison with the last 2 places we had stayed in. Just basic with an ensuite to the left as you came in the door and opposite that a small area for hanging clothes and storing things and a small desk, then on either wall a bed. When we arrived it had a bed and a lounge, but the lounge converts quickly and easily to another bed. We had requested a window and in fact had 2 of them. Not able to open them, but able to let light in and to see out. We had our own control for the temperature. I think this is pretty standard layout as it is almost identical to what I had for the trip along the coast of Norway in Jan 13, and seems to be what they show as being the layout for the cruise I will be doing in August.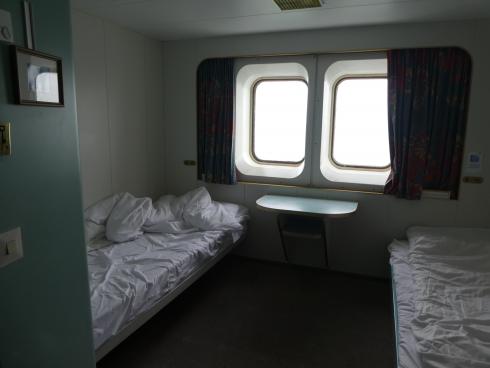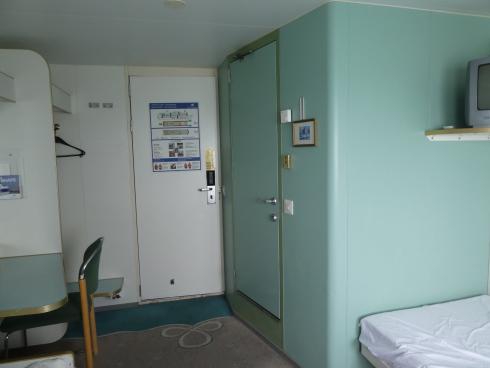 Ensuite is on the right, small dexk and wardrobe to the left, and cabin door in centre with evacuation directions on it.
To give you an idea of the size of this vessel – the lower floors are all engines, car decks etc.
Deck 5 has the Reception Desk, The Shop, the Beauty Salon and lots of cabins.  Deck 6 (the one we were on) is mostly cabins (about 390 of them.)  and the Freight drivers lounge.
Deck 7 has the Merrion Lounge at the fore, Left Bank Brasserie, (Great value buffet style self serve area) Happy Price Play area for young children (adult supervision required) Café Lafette, (freshly made sandwiches and pastries hot and cold beverages) Oscars Piano Bar (first place we found) The Steakhouse, The Berneval Waiter Service Restaurant (top class A la Carte dining) and across the aft the Gaiety Lounge where all the young ones partied till the wee hours.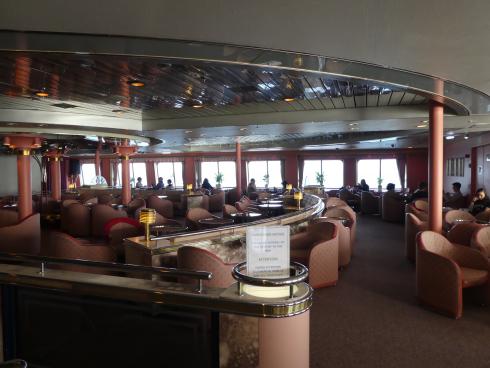 The Merian Lounge at the front of the Ferry.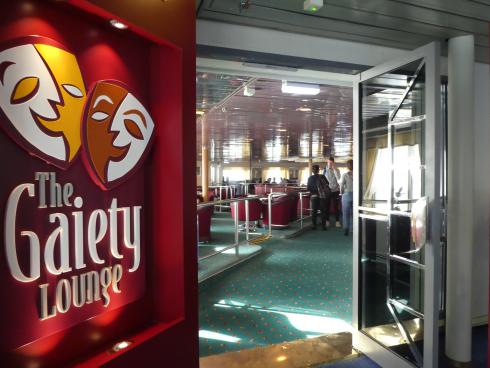 The Gaiety Lounge across the aft of Irish Ferry MV Oscar Wilde where all the young ones partied till all hours.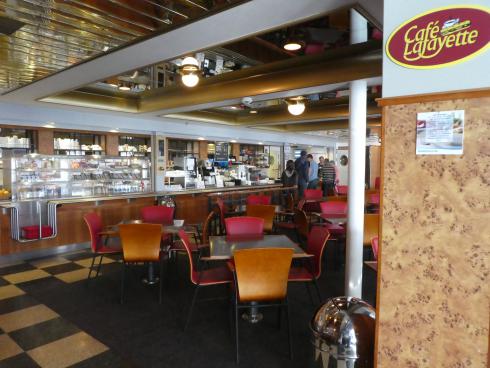 Cafe Lafayette - MV Oscar Wilde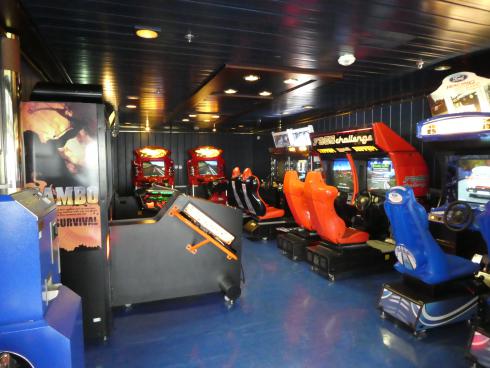 Video Games area on MV Oscar Wilde. I had to take this photo very early in the morning for it to be empty of children.
Deck 8 has the outside deck areas and the 3 Assembly Stations (in case of emergency) and more cabins.
Deck 9 just has a few cabins  (the larger suites etc)
Deck 10 has a Cinema and reserved seating and luggage lockers for anyone who needs one.
So, as you can see, there is lots to do and see while on board and you do not feel confined at all.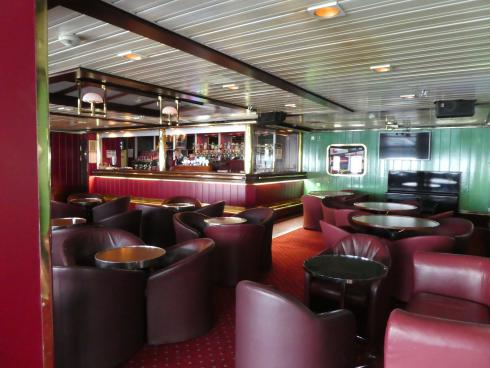 The Piano Bar on the Irish Ferry where we took refuge when we first boarded.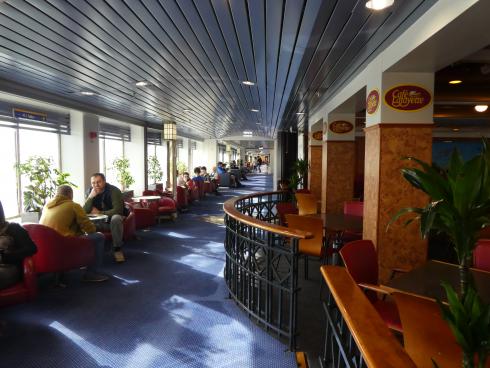 The Deck area outside the Piano Bar and cafe and restaurant where you could also sit - and enjoy a drink too if you chose too.
We headed for the Piano bar as soon as we had settled our gear. While there they made an announcement regarding safety and where the "assembly stations" are On 8th Deck. They also warned us it would be a bit rough but they would make it as comfortable for us as they could.  As well as the student who had boarded with us, there were several other groups who had boarded on the coaches they are travelling on, so everywhere you looked there were students – most were older than those who boarded with us and we wondered if the some were uni students even. The crew are obviously used to handling parties of students though, as they took them in 'sittings'  and had made arrangements for them to sit in a separate area of the Left Bank Brasserie, and it is one that is not only mostly screened from the main eating area, it can be closed off if necessary.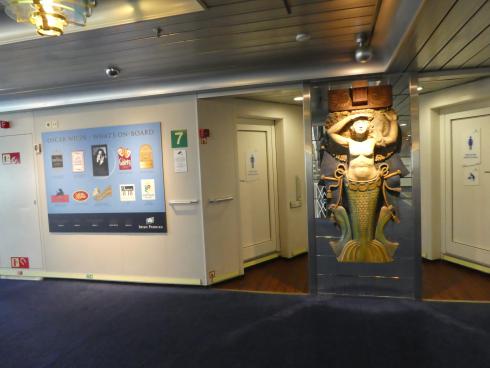 The main information board on Deck 7 plus Public Toilet entires and a mermaid decoration as you enter the main public areas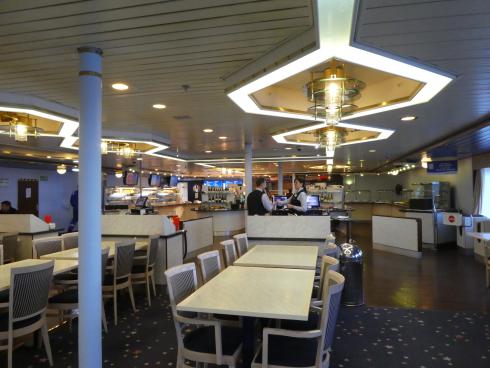 The Buffet area at the Brasserie.
I was on deck when we left port. It was rather lovely. The moon was quite prominent and there were the lights of the town and naturally I was taken with the way we "turned on a threepenny bit" (as they used to say) thanks to their massive side thrusters, which all the modern boats seem to have, as soon as we were a few metres out from the wharf, and headed out to the open sea.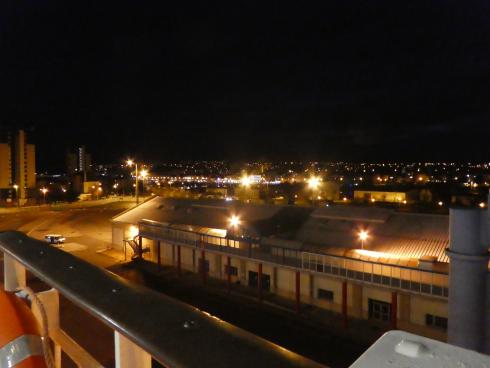 Pulling away from the wharf at Cherbourg France.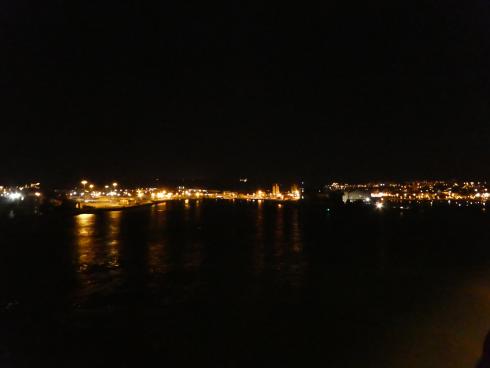 The lights of Cherbourg fade in the distance. Our dock was the well lit one on the left of the picture.
We had a lovely meal in the Left Bank Brasserie with them going to a lot of trouble to make sure the meal was suitable for me to eat.  It was quite late by then, so I did a walk around the deck, (cold and windy)  and then a walk around the inside venues. With all the young people in the Gaiety Lounge  it was starting to get wound up so I headed for my cabin and bed.  I was aware in the early hours we were really pounding along and it was quite a bumpy ride. At some stage I looked out the window and saw the lights of what would have been the south Coast of England – Lands End area – as we were on the starboard side. I was also aware of a good number of other shipping in the area, many ferries, some tankers and container ships and some smaller vessels, which I took to be fishing boats.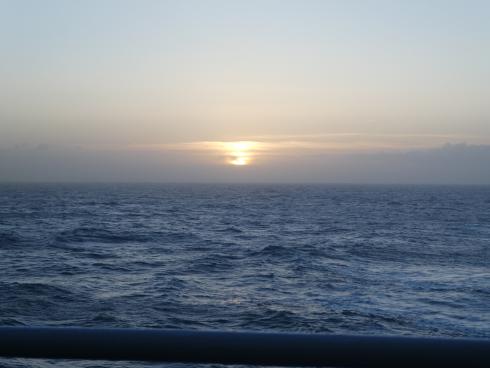 The promise of a lovely sunrise at sea on Irish Ferry between Cherbourg France and Rosslare Iremand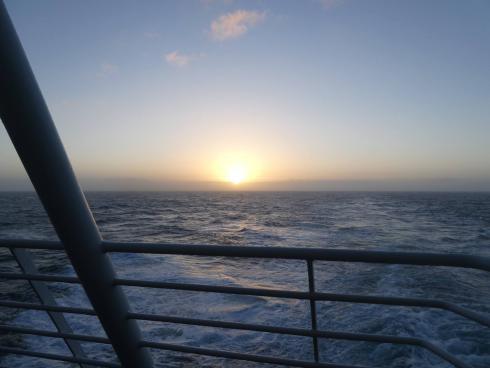 As ggod as it got. Sunrise on MV Oscar Wilde at sea between Cherbourg France and Rosslare Ireland.
I decided I would get up to see the sunrise at sea. There is nothing quite like a sunrise at sea, and it was always my favourite time of day when I was on the boats in the late 60's.  So I got up at what I thought was 6am (but found out later was in fact 5am Irish time) and went up on to the back deck. The ship was pitching about like you would not believe and I found it very hard to walk without hanging on to something. Then I waited. I had a long solitary wait as the sky did not even start to lighten for at least an hour. Then when it did come, the sunrise was a bit of a disappointment. Too much low cloud and not enough high cloud, but it was nice to be there with not another soul around, and see it. Was bloody cold though so I spent most of the time inside the Gaiety Lounge until the sun started to make an appearance.  There was a heavy swell rather than lots of waves. I also noted that by the time I was heading back down to my cabin the boat had slowed and the passage was not so rough. I reckon the skipper was putting as many miles under his belt while we slept so he could go slower when the passengers were up and moving around.
We had a great breakfast – buffet - with lots of choice in cereal, fruit fresh and canned, hot food and several types of bread and rolls for toast.   You went and chose what you wanted and then they charged you for what you had chosen. Great system as people only take what they are prepared to pay for.  I noted there were far less people lining up for breakfast than we had had the night before so maybe the rough weather during the night had taken its toll. Then I spent the next few hours,  either exploring the ship, taking photo's or playing on the laptop.  Judy went off and did her own thing and we met up again for a drink and then lunch.  As it happens one of the things she had found was what they call "the Oscar trail". They have different facts, quotes and snippets from and about Oscar Wilde all around the boat and you can get a pamphlet, which directs you to each one in turn. After she told me about it I went off to find the few I had not already 'stumbled' across. The "Early Days' is on deck 5 outside the Hair and Beauty salon, near the lifts are the "Family Ties'. The foyer of deck 6 has "The Making of a Brilliant Mind" and in the stairwell between 6 and 7 is "Rise to Fame.  Deck 7 has "The London Scene" and "America and France" near the lifts and "The Family Man" is beside the Games Zone and "The Critics attack' is outside the Gaiety Lounge.  "Success at last" is in the stairwell between decks 7 and 8 and "Storm Clouds Gather" in the stairwell between decks 8 and 9. Beside the lift on level 10 is "Imprisonment and Reading Gaol" and at the forehead stairwell to level 11 is "The end of the Road".  Lots of his best known quotes.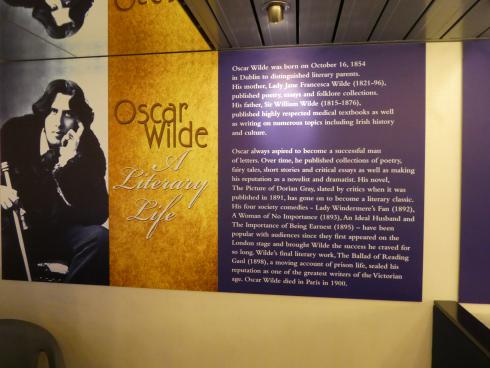 Oscar Wilde - A Literary Life.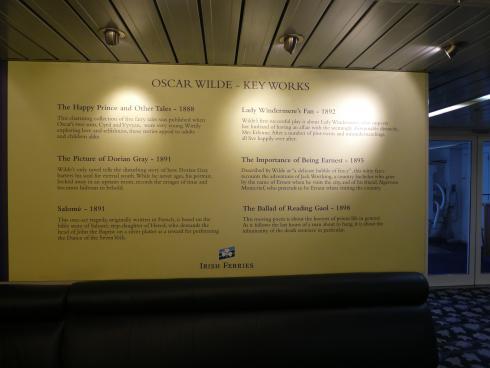 Oscar Wildes Key Works - Irish Ferry MV Oscar Wilde
It seemed no time at all when they were telling us to vacate the cabins for the cleaners and get ready to disembark at Rosslare.  Unfortunately I did not get a chance to get many photo's of us coming into Rosslare Harbour, which I might add was totally empty when we arrived.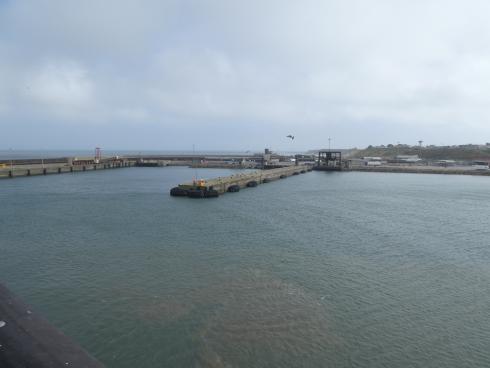 Coming into an empty harbour at Rosslare Ireland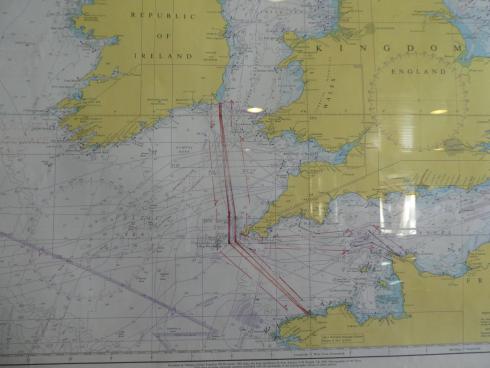 The map shoeing the route the Ferry takes on the route between Cherbourg France and Rosslare Ireland and return.
The walk on passengers had to go to the Reception desk area on Deck 5. The others were called by the Deck their vehicles were on and asked to proceed to their deck and vehicle and follow the directions of the crew for disembarkation. We were eventually directed to the car deck 3 and out in a bus again with our luggage and driven off the ship and to a shed where an Immigration officer came on board, collected our passports and returned a few minutes later with them all duly stamped.  At this stage we had not seen the students who boarded with us so wonder if they were taken off separately.  Neither did we see the Polish lady who had boarded with us so she must have disembarked with her friend. There were only about 8 people on the bus including us and when we went to the customs area we virtually just got waved through. I did see them running a mobile X- ray machine over one of the trucks as we waited to go through. Many others were being asked to open up their doors and people were getting up into them – sometimes with sniffer dogs. Even some of the cars and vans were getting a very detailed search so I am wondering if they were expecting something. Anyway, they did not worry with us – simply waved us through.  We got dropped off at the terminal building which had a taxi standing outside which we shared with another couple. We could see our hotel at the top of the cliff from where we were at the bottom of the cliff but did not fancy walking up. As it turned out it is further than you realise by road and was about a 6 Euro trip, which means we travelled a fair way around. It meant we also got to see some more of Rosslare as we did so.
Both Judy and I really enjoyed our overnight ferry from France to Ireland and I urge you to also do it if you get the chance.  For anyone interested in more information the website address is http://ww.irishferries.com or most travel agents can help. If you have a valid Eurail pass for both Ireland and France (which we did) you get a 30% discount off the fare.  In case you are not aware France and Ireland qualify as "adjoining" countries for the Eurail passes.
For those interested here are some facts and figures you might find of interest in the ship.
MV Oscar Wilde
Fittingly named as he was an Irish wit and dramatist with strong links to France,  for the run between Rosslare Ireland and France and is the biggest and most modern in the fleet.
Built in Wartsila Shipyard, Turku, Finland in 1987.
 166m Long, 28.4 breadth and draught  6.7m
Carries 1458 Passengers and 580 passenger cars. Cargo capacity 4755 tonnes, Service speed 21.5 knots (40kph) Fuel consumption 70 tonnes per 24 hours.
Freshwater tank capacity 640 tonnes.
Emergency stop – 796m or about 5 ships lengths. Anchors  2 each weighing 5.5 tonnes and 300m chain.
Each year they carry approx. 200,000 passengers who consume 36,000 litres of milk, 44,000 sirloin steaks, 21 tonnes of potatoes 19 tonnes of chips, 5 tonnes Baked Beans, 350,000 cups of tea and coffee 150,000 sausages, 130,000 eggs, and enjoy 125,000 pints of beer, lager and Guinness.
By the size of the port, we could see it must be a busy one and the sign just as you leave the port facility was one I saw many of when I was here in 2011 – to the effect it was funded by the EU. As I said when we arrived the port was empty. But by 10pm there were several other ferries in and there was a stream of traffic going all directions. When we woke about 7 am it was empty again, but by the time we had had breakfast 2 more ferries had arrived.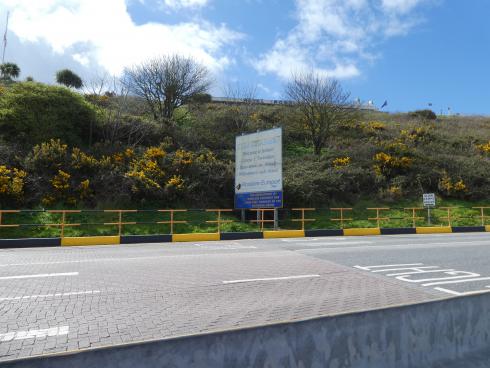 This sign at the entry to the port area at Rosslare Ireland declares it to be a Europort and its development was funded by the EU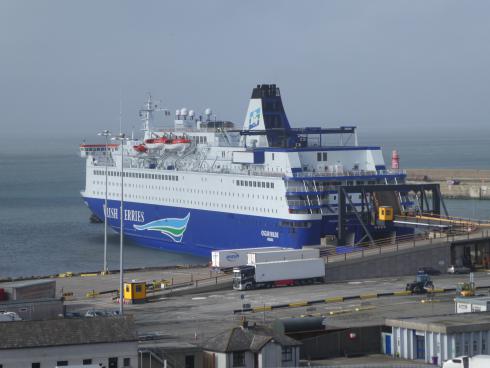 The Irish Ferries MV Oscar Wilde docked at Rosslare, Ireland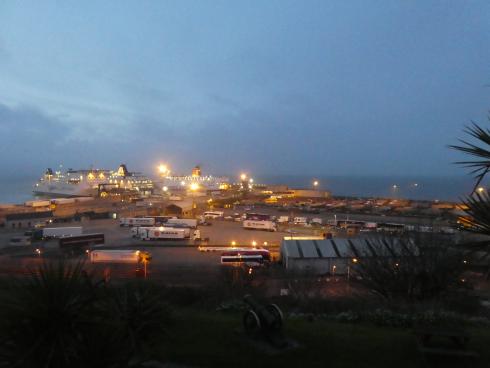 Rosslare Harbour was a hive of activity in the middle of the night. All gone by the time we got up.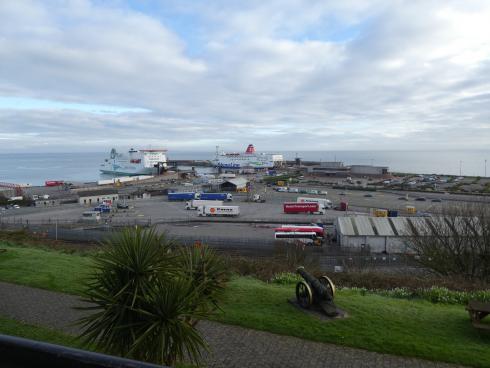 Rosslare Ireland is a very busy port. More ferries had arrived by the time we had had breakfast.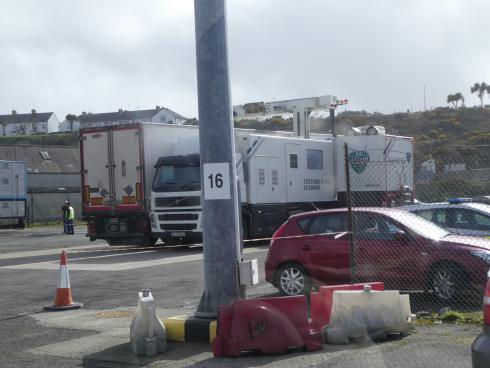 This isthe best photo I could get of the truck mounted customs scanner which was going over a semitrailer in Rosslare Ireland.